Aviso'VIZ
Welcome in the new « Aviso+ Products VisualiZation Portal»!
By clicking on this link (prefer Mozilla Firefox or Chrome for navigation), you will enter the vizualisation portal for samples of current or future products of the Aviso+ catalogue. These products are not updated in real time, they are representative of a short past period (December 2014). In this first version of the tool, only gridded products will be available (Level 4 products and auxiliary products). Samples of along-track products will be available in March 2017, in the next version of the visualization tool.
Products currently available in Aviso'VIZ (disseminated by Aviso+)
Mean Sea Level rise (MSL)
Significant Wave height (MSWH)
Wind Speed (MWIND)
Mean Sea Surface (CNES-CLS-2015) - soon available to users
Mean Dynamic Topography (CNES-CLS2013)
Barotropic tidal currents from Tide Model (FES2014) - available to users in Oct. 2016
Tide model FES2014 - available to users in Oct. 2016
FSLE (Finite Size Lyapunov Exponents)
Products currently available in Aviso'VIZ (disseminated by CMEMS)
Map of Sea Level Anomaly (MSLA)
Geostrophic currents from MSLA
Map of Absolute Dynamic Topography (MADT)
Geostrophic currents from MADT
View products
How to find nearest data.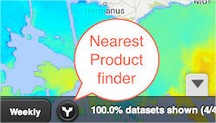 When you arrive on the portal, a welcome message indicates how to use the visualization tool. The interface is intuitive. Nevertheless, if no data appear, please click on "Find nearest data" (at the bottom of the interface).
Disclaimer
Aviso'VIZ only provides visualisation capabilities and not products downloading. The aim is to promote altimetry-derived products and to help users discovering new products.
The aim of the tool is to propose a simple visualization of produtcs that are (or will be soon) listed in the Aviso+ catalogue, without filtering or post-processing. For example, users can discover data holes in products or data going over land (due to the processing method). Users can then have a clear idea of content and finish.
Acknowledgements
OceanDataLab, CMEMS, CLS, CTOH, LOCEAN.
Comments and Suggestions
All suggestions for improving our service is welcome at the following email address : aviso(at)altimetry.fr