Mediterranean Sea (M)ADT - Absolute Dynamic Topography & absolute geostrophic velocities (grid and along-track)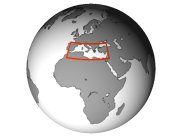 Types of dataset: Ssalto/Duacs multimission altimeter products
Contents: multimission surface heights above geoid, along-track or gridded (1/8°x1/8° on a regular grid); dynamic topography is the sum of sea level anomaly (M)SLA and mean dynamic topography (regional SMDT-MED-2014).
Condition of access :The Copernicus Marine and Environment Monitoring Service (CMEMS) has taken over the whole processing and distribution of those products (formerly distributed by Aviso+, no change in the scientific content). The gridded products can be vizualised on the AVISO+ Live Access Server (LAS).
Description:
Geographic coverage: Mediterranean Sea (30.0625°N-45.9375°N, 354.0625°E-396.937°E)
Transition of SLA products to CMEMS:
The detailed list of products concerned by the transition and links to CMEMS catalogue are available here.
Useful links on CMEMS website:
See also: DUACS Product validation & information