The Vendée Globe 1996-1997
While Argos tracked all the skippers in the Vendée-Globe 1996-1997 single-handed round-the-world race, altimetry satellites (Topex/Poseidon and ERS-2) measured wave heights. The chart right shows the routes followed by Thierry Dubois (in yellow) and Tony Bullimore (in orange). For them the race ended in raging seas, their boats engulfed by waves over 12 metres high!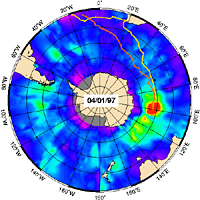 Satellite altimetry is a reliable source of sea state data. In the years ahead, fully operational systems will make such data available in real time to enhance forecasting services and help to improve safety for sailors and route ships.