XTRACK L2P 2022: New AZORES area

A new area AZORES has been added to the XTRACK L2P version 2022 product. There are now 27 coastal areas that are distributed.

Version 1.1 of Wet Troposphere Correction from water vapour CDRs

The new version 1.1 of the Wet Troposphere Correction from water vapour climate data records is now online on Aviso+, taking into account new versions of input data.

Swot orbit changed for the "science" orbit

Between 10 and 20 July, Cnes teams performed a series of manoeuvres to raise Swot satellite's altitude by 33 km. The satellite has been in a calibration and validation 1 ...

New on AVISO+: Barystatic and manometric sea level changes from satellite geodesy

The barystatic and manometric sea level changes represent the mass component of sea level changes at global and regional scales respectively. They are estimated here usin...

Polar Oceans Products: release of v2.0

A new version v2.0 is available for Arctic and Southern Oceans SSALTO/DUACS experimental gridded and along-track products.

Swot campaign in the Western Pacific

The Cruise LGD2308 left Taiwan onboard the ship Legend to measure sea surface heights and detecting oceanic eddies using GNSS for Swot validation (June 23 -July 3, 2023)

SWOT L2_NALT_O/IGDR and L2_RAD_O/IGDR Release

The Surface Water and Ocean Topography (SWOT) project is pleased to announce the public release of Level 2 science data products from the onboard nadir altimeter (NALT) a...

El Niño's back in 2023

Altimetry sea level anomalies have been showing an elevation all along the Equator in the Pacific for the past four months.

Monitoring of the Kakhovka reservoir/river by altimetry

The Hydroweb database – https://hydroweb.theia-land.fr/ – is monitoring changes in water levels over time on large lakes, reservoirs and rivers, from altimetry measuremen...

Fifth Space for Hydrology Workshop (Hydrospace 2023)

ESA, Cnes and Gewex are organising a sequel joint event to Hydrospace 2021 and EO4Water 2020: The 5th Space for Water Cycle and Hydrology Workshop, Hydrospace 2023.

XTRACK L2P 2022: new version v2.1

An udpate of the product XTRACK L2P 2022 has been made and is now available on AVISO+.

The Swot CalVal site in Baie de Veys (Normandy, France) is set up and running

Swot "Adopt a Crossover" is also ongoing on the rivers and coastal areas. The Baie de Veys site has been installed in March, and now Lidar flight synchronized with Swot 1...

Swot CalVal field work on the Amazon River

The SGB/CPRM (Geological Survey of Brazil) and IRD (France) realized a joint field work on the Amazon River for the calibration and validation (CalVal) phase of the Swot ...

Validating Swot measurements in the Western Mediterranean Sea

A series of at-sea campaigns to calibrate and validate the Swot sea surface heights are ongoing. One of the Mediterranean Sea at-sea campaign was recently carried out, wi...

The global OHC - EEI product is now in version 5.0

The global Ocean Heat Content and Earth Energy Imbalance has been updated in version 5.0 with the temporal period January 1993 - May 2022.

New CFOSAT SWIM Ice products

CFOSAT SWIM ICE products provide sea ice detection, sea ice probabilities indicators that can be used either to improve SWIM data assimilation or to take benefits of the ...

Up to now in its calval phase, Swot is starting to deliver its first scientific data, the accuracy of which is already...

Information about AVISO+ products latency & quality, satellite status, DORIS beacons status, etc.

Teachers and students, follow ocean buoys and animal beacons in the ocean!

Download the new AVISOcean application (v2) to help you discover the oceans and altimetry. More than 700 users have already downloaded the app! Join them! Available on Android and Apple.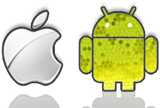 Chaque bi-fréquence des altimètres réagit différemment à la pluie. Elle permet non seulement de détecter...
Number and localization of AVISO+ visitors since Feb 11th, 2014. Yellow dots show recent visits.