CFOSAT SWIM data in version 6.1

We are pleased to announce the upgrade in version 6.1 of SWIM data. The V6.1 issue of the SWIM processing chain is operational since January the 17th, this issue contains...

First waveforms over river from the nadir altimeter on SWOT

After a successful launch on Dec. 16, 2022, the Poseidon-3C nadir altimeter onboard the Swot satellite has started delivering its first measurements, on rivers & lakes to...

Swot first (nadir) ocean altimetry data

The sensors of Swot scientific payload have been switched on one by one during the past weeks.

Jason-3, already 7-year old!

Jason-3 was launched 7 years ago, put on the "historical" orbit of Topex/Poseidon, Jason-1 and 2.

AVISO+ User Satisfaction Survey 2023

We invite you to complete the AVISO+ User Satisfaction Survey, for the year 2023. Your feebacks will be shared with the space agencies and will be detailed in the AVISO+ ...

CFOSAT: 4 years of scientific results

Four years of scientific results (2018-2022) based on the CFOSAT Science Team results and the CAL/VAL expert group activity.

Swot deployments in space

Swot satellite deployed its solar array, mast and antennas these past two weeks. The sequences were filmed by an onboard camera.

New on AVISO+: Along-track Experimental Sentinel 6MF products (from CNES R&D processor)

As announced at last OSTST meeting, the release of the Sentinel-6 Michael Freilich Level-2 experimental products is available on AVISO+. These products were generated by ...

Swot satellite successfully launched (Nasa/Cnes press release)

Friday 16 December, the Swot satellite (Surface Water and Ocean Topography) was sent into orbit atop a Falcon 9 vehicle operated by SpaceX from Vandenberg Space Force Bas...

Wet Troposphere Correction from Water Vapor CDRs

The new product "Wet Troposphere Correction" derived from Water Vapor Climate Data Records (CDRs) is now available on Aviso+.

L2P Wave products: New calibration of Jason-3 against in-situ data

An upgrade of the Level-2 Plus Wave products has been done on November 29th 2022 on the operational chain, taking into account the new calibration of Jason-3 against in-s...

Release of Sentinel-6 L2P and L3 NTC products

Copernicus Sentinel-6 Michael Freilich L2P and L3 Non-Time Critical (NTC) products will be publicly released on 6 December 2022 and 30 January 2023, respectively.

SWOT simulated products: 2 new datasets L2 and L3

The SWOT simulated Level-2 and Level-3 SSH corrected datasets are now available on AVISO+. They contain the crossover calibration (XCAL) correction.

New 4DAtlantic-OHC product and global OHC-EEI in v4.0

The regional Ocean Heat Content (OHC) change has been estimated over Atlantic Ocean thanks to the 4DAtlantic-OHC project. And the new version 4.0 of global Ocean Heat Con...

Use of altimetry water level time series by MSF to help displaced communities in South Sudan

Satellites such as the altimeters thus can help in warning of possible rise of the water level to help displaced communities in South Sudan

2022 summer extreme events: Floods in Pakistan

One-third of Pakistan is flooded this year, much more than the usual monsoon flooding. Satellites, including altimeter ones, help in understanding and assessing the pheno...

Grâce à la détection de tourbillons à partir de l'altimétrie et aux données de suivi on peut étudier le rôle des...

Information about AVISO+ products latency & quality, satellite status, DORIS beacons status, etc.

Teachers and students, follow ocean buoys and animal beacons in the ocean!

Download the new AVISOcean application (v2) to help you discover the oceans and altimetry. More than 700 users have already downloaded the app! Join them! Available on Android and Apple.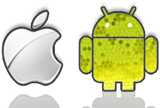 Ces vagues ont une forme anormale (vague très cambrée, vague pyramidale) ou/et une hauteur bien supérieure aux vagues...
Number and localization of AVISO+ visitors since Feb 11th, 2014. Yellow dots show recent visits.