XTRACK L2P 2022: new version v2.1

An udpate of the product XTRACK L2P 2022 has been made and is now available on AVISO+.

The Swot CalVal site in Baie de Veys (Normandy, France) is set up and running

Swot "Adopt a Crossover" is also ongoing on the rivers and coastal areas. The Baie de Veys site has been installed in March, and now Lidar flight synchronized with Swot 1...

Swot CalVal field work on the Amazon River

The SGB/CPRM (Geological Survey of Brazil) and IRD (France) realized a joint field work on the Amazon River for the calibration and validation (CalVal) phase of the Swot ...

Validating Swot measurements in the Western Mediterranean Sea

A series of at-sea campaigns to calibrate and validate the Swot sea surface heights are ongoing. One of the Mediterranean Sea at-sea campaign was recently carried out, wi...

The global OHC - EEI product is now in version 5.0

The global Ocean Heat Content and Earth Energy Imbalance has been updated in version 5.0 with the temporal period January 1993 - May 2022.

New CFOSAT SWIM Ice products

CFOSAT SWIM ICE products provide sea ice detection, sea ice probabilities indicators that can be used either to improve SWIM data assimilation or to take benefits of the ...

Aviso+ Users Newsletter #21

Release of the 21th Aviso+ Users Newsletter: highlights of ongoing satellite altimetry mission activities.

CFOSAT SWIM data reprocessing in version 6 COMPLETED

We are pleased to announce that the reprocessing of SWIM data in version 6 is now completed, all data from 25 April 2019 to the current date are now available.

New product: Antarctic Circumpolar Current - fronts

Three files containing variables to monitor the position of the three main fronts of the Antarctic Circumpolar Current (ACC) - the Polar Front, and the northern and south...

Cnes/Nasa Press release: Swot water tracking satellite sends back first stunning views

The international Surface Water and Ocean Topography (SWOT) satellite has sent back some of its first glimpses of water on the planet's surface.

GMSL Update: integration of Sentinel-6 Michael Freilich

The Aviso global mean sea level (GMSL) time series has been recently updated with the Sentinel-6MF mission

Cyclone Freddy seen by altimetry satellites

Cyclone Freddy, stroke Indian Ocean, and in particular Mozambique Channel in February-March 2023. It broke a number of records.

Release of Swot Nadir O/I GDR sample data

The Aviso and Cnes teams are pleased to announce the release of Swot Nadir Operational and Intermediate Geophysical Data Record sample data for early dissemination.

SARAL/AltiKa celebrates 10 years in orbit

CNES and ISRO are happy and proud to celebrate 10 years of SARAL. Launched on February 25, 2013 from the Indian base of Satish-Dhawan, with a PSLV launcher, SARAL (Sate...

New on AVISO+ : The Mean Dynamic Topography CNES-CLS 22

The new version 2022 of the Mean Dynamic Topography is now available to all AVISO+ users.

New on AVISO+: Segmented images of meteocean processes

This data set contains 1000 annotated imagettes (20x20 km approx.) of Sentinel-1 Wave Mode acquisition in the form of JSON polygons among 10 metocean features down to 50...

Doris RT data from Jason-3 can be used to evaluate the quality of ionosphere models from GNSS data

Information about AVISO+ products latency & quality, satellite status, DORIS beacons status, etc.

Teachers and students, follow ocean buoys and animal beacons in the ocean!

Download the new AVISOcean application (v2) to help you discover the oceans and altimetry. More than 700 users have already downloaded the app! Join them! Available on Android and Apple.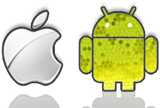 Chaque bi-fréquence des altimètres réagit différemment à la pluie. Elle permet non seulement de détecter...
Number and localization of AVISO+ visitors since Feb 11th, 2014. Yellow dots show recent visits.