28.06.2022 08:37 Age: 1 year

Aviso+ Users Newsletter #20
Category: Odatis, Website updates
Release of the 20th Aviso+ Users Newsletter, dedicated to meeting the needs of data users, and highlighting CNES altimetry-mission activities.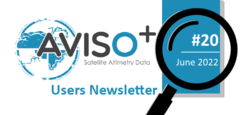 We are pleased to announce you the publication of the Aviso+ Users Newsletter #20.
Summary
Jason-CS/Sentinel-6 Michael Freilich, the new reference altimetry mission
Jason-3 on an interleaved orbit
New Sargassum detection data
Learning databasefor ocean SAR imagery
Events
We hope you enjoy this new issue.
Find all the past newsletters
---