23.08.2022 13:30 Age: 161 days

Altimetry-related trainings at EUMETSAT
Category: Events
EUMETSAT is organizing trainings on ocean remote sensing, altimetry included.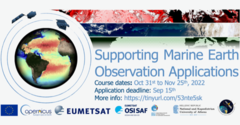 At the end of October this year, EUMETSAT will be running a "Supporting Marine EO Applications" course. The focus will be on data streams from EUMETSAT Copernicus marine missions (Sentinel-3, Sentinel-6) and derived downstream products, those derived from Copernicus supporting missions, and those made available by the Ocean and Sea-Ice Satellite Application Facility (OSI SAF). This course will cover altimetry, but also ocean color and sea surface temperature, in particular.

The course will run from October 31st to November 25th, with a more intensive phase between 21 and 25 November 2022. It will be held online in collaboration with OSI SAF and Oceanography & Earth Observation Group of the National and Kapodistrian University of Athens.

More information on the course can be found at the following link, where applicants can find more information on how to apply:

https://trainingevents.eumetsat.int/trui/events/2133

The event is suitable for:

• Early career researchers (masters, PhD, PostDoc) who are new to marine remote sensing and/or the EUMETSAT marine product catalogue

• Marine scientists who may be working in a cross-disciplinary capacity and are looking to widen their skills into the marine Earth observation

• Experienced professionals from any relevant sector (industry, government, environment, research) who have clear motivations for working with satellite-based ocean observation data for marine applications.
Moreover, on Sept. 29, a short course on "Recent Developments in Altimetry Measurements - Sentinel-6 Michael Freilich" will also be organized by EUMETSAT.

see https://training.eumetsat.int/course/view.php?id=445 for more information and to register.
---