Aug. 18, 2009: Severe typhoon Morakot in the western Pacific
Severe typhoon Morakot in the western Pacific
Lively Data, August 18, 2009
A severe typhoon nammed Morakot (that it means Emerald) slammed the island of Taiwan early in August. Although it was not classified beyond the Category 2 on the Saffir-Simpson scale, it was accompanied by heavy rains (from 600 to 1000 mm on the south of the island) that caused huge flooding, devastating mudslides and leading to massive losses.
Beginning with tropical depression in the Pacific Ocean on August 4, Morakot became a tropical storm and then a typhoon as it neared the eastern side of Taiwan on the August 7.
Wind and wave near-real time data deduced from altimetry and integrated in the LAS can help to follow the path and the strength of Morakot. An animation realised with all maps is proposed below.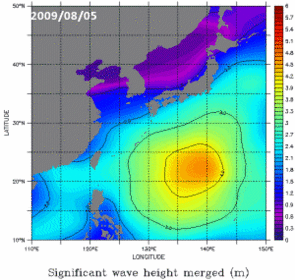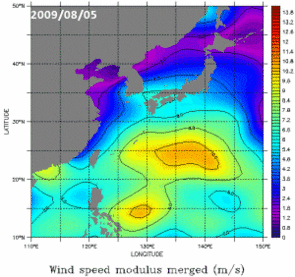 Significant wave heights (left) and wind speed modulus (right) computed fromSsalto/Duacs merged altimetry data over the period between the 05th and the 11th of August in the western Pacific. Choose NRT - Global - (Maps of) Significant Wave Height (or Wind Speed modulus), the date and the geographical area. Each map/frame are then integrated in an animated gif.

Use the Live Access Server