X-TRACK: Sea Level Anomalies dedicated to coastal applications
Types of dataset: Altimeter Sea Level Anomalies dedicated to coastal applications at 1Hz
Contents: Along-track Sea Level Anomalies projected onto the reference tracks with a spatial interval of about 6-7 km between points (1 second). Specific processing (developed at LEGOS) has been made using the latest corrections available.
Use: coastal applications
Description: multimission altimeter satellite product in delayed time
Format: NetCDF
Tools:
User hanbook: X-TRACK product user manual
References: Birol, F., N. Fuller, F. Lyard, M. Cancet, F. Niño, C. Delebecque, S. Fleury, et al. 2016. "Coastal Applications from Nadir Altimetry: Example of the X-TRACK Regional Products." Advances in Space Research, November. doi:10.1016/j.asr.2016.11.005.
Geographic coverage:the zones have been defined as indicated below: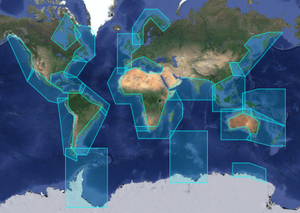 For details on the defined areas, please visit the dedicated CTOH web page
Copyright : 1993- ongoing. These products were developed, validated and distributed by CTOH/LEGOS France. Publications should include the following statement in the Acknowledgments: "Altimetry data used in this study were developed, validated by the CTOH/LEGOS, France and distributed by Aviso+".
Delayed-time
Satellite
Type
Authenticated access services

Data period
File weight
Topex/Jason-1/Jason-2/Jason-3
along-track
FTP (please information in the 'product page' of your private space)
CTOH website
Feb. 1993 - ongoing
Topex/Jason-1/Jason-2
Jason-2
Jason-1
Jason-1 Interleaved orbit (J1N)
Topex
Topex Interleaved orbit (TPN)/Jason-1 Interleaved orbit (J1N)
Topex Interleaved orbit (TPN)
SARAL/AltiKa
Envisat
Geosat Follow On