The North Atlantic Oscillation index (NAO) is driven by pressure differences between a high-pressure system over the Azores and a low-pressure system over Iceland, with which the ocean interacts. Its fluctuations have a direct impact on the climate of Europe, particularly Western Europe.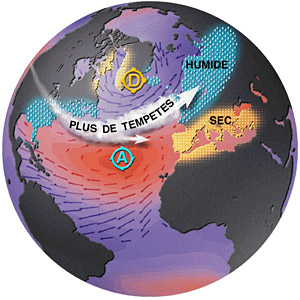 During what scientists call a positive NAO, pressures in the Azores high are especially high and pressures in the Icelandic low are lower than normal. Both pressure systems are located to the north.
This increased pressure differential causes westerly winds to intensify between 50° and 60°N. Storms are more frequent, northern Europe gets warmer and wetter weather as the winds blow off the ocean, while the Mediterranean is unusually dry. North-east America is generally wet, while Labrador and Greenland are cold and dry.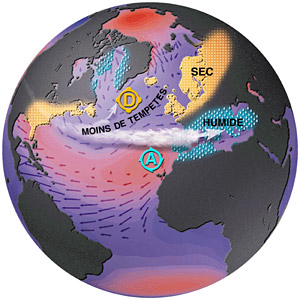 During a negative NAO, the Azores high and the Icelandic low are much weaker. Pressure differences are therefore smaller and both systems are located to the south .
Weaker westerly winds bring less moisture in the air to northern Europe, and less heat. Because these winds are further south, Mediterranean weather is wetter and winter in North-east America is warmer and drier than normal.