May 2023: Swot in an Estuary-River system
Swot in an Estuary-River system
Image of the Month - May 2023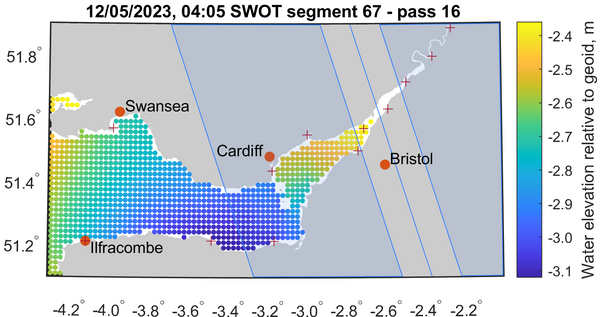 The SWOT-UK project is a comprehensive programme of campaigns and multidisciplinary research centred on the Bristol Channel and River Severn region as the UK contribution to the international Swot Science Team validation work. SWOT-UK takes an open and inclusive approach, putting special emphasis on disseminating value-added Swot validation datasets and engaging with the wider UK science and stakeholder communities to raise awareness of the Swot capabilities.
The Bristol Channel-Severn estuary has one of the largest tidal ranges in the world. The region has numerous coastal cities and towns, and is an important area for wildlife, with protected national nature reserves. A network of water level gauges are operated by the UK Environment Agency to monitor flood risk.
The complexity of the tide results in along and across channel slope of the water level. It is expected that these features will be seen in the Swot swath data, with the addition of storm surge. Waves in the Bristol Channel can reach up to 7 m in height and may have a noticeable effect on the altimeter water levels but are much smaller up in the Severn Estuary.
Swot calval phase has begun last month for three months, and will enable to validate the measurements from different other datasets, for ocean, coastal and hydrology data alike. The data calval will continue on during the whole mission, to certify the data quality, and fine-tune and improve the processing.