Aviso Newsletter 3
September 1994
The first two issues of the AVISO Newsletter outlined how the AVISO space oceanography databank would serve the TOPEX/POSEIDON mission. It also described the results of intensive data validation with help from the PIs and CoIs, around whom the mission's success revolves.
After a successful satellite launch and the end of validation, the increasing demand for data shows that the mission is succeeding. The success is largely due to constant interaction between the scientific and project teams of TOPEX/POSEIDON and AVISO.
Issue #3 shows some of the interaction, with many scientists penning articles. Thank you to all of them, and let's keep the momentum going.
For more information, whether you're a regular user or just starting out with AVISO, I invite you to contact us.
Patrick Vincent - CNES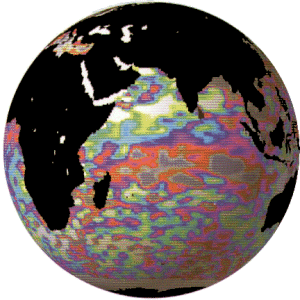 Editor: Patrick Vincent
Editorial board: Pierre- Yves Le Traon, Sophie Coutin-Faye
Other contributors: J. Barckicke, E. Blayo, E. Brown, T. Busalacchi, E. Dombrowsky, P. Gaspar, M. Gründligh, J.M. Lefèvre, C. Le Provost, B. Le Squère, Y. Ménard, M. McPhaden, H. Mercier, J.F. Minster, J.M. Molines, J. Picaut, J. Stum, J. Verron, C. Wunsch.
English adaptation: Nigel Greenwood
Design: Pixeline