Corsica calibration sites
Calibration campaign contribution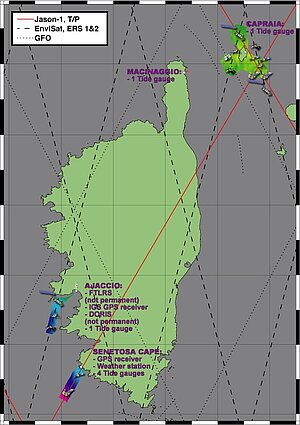 The experience of calibration/validation operations (Cal/Val) during the T/P mission has demonstrated the need to develop sites and ground experiments to control the instrumental drifts, which can occur on space altimeter equipment as well as on in-situ instruments.
We have a threefold experience in this field.
First of all, precise orbit validations, with the development and the systematic use of a short arc orbit determination method based on laser telemetry data from a regional network [Bonnefond & al., 1995].
Then, a calibration and collocation campaign in a new site in Corsica using the ultra-mobile laser station (FTLRS) operationally for the first time in 1996/97, then during 2002, 2005 and 2008 campaigns. The station was also used in an international collaboration frame with a campaign in Creta in 2004, in support to Gavdos calibration site, and another in Tasmania in 2007-2008, in support to Burnie calibration site. The last FTLRS campaign was made in Corsica in 2008 for cross comparisons between Jason-1 and Jason-2.

Finally, the laser instrumental biases estimations over time, and their stability, which is a more and more important component for orbit determination and precise location in space geodesy [Bonnefond & al., 1999].
In the framework of the Jason program, we have proposed to Cnes and Nasa, a general error balance study of the orbit (tracking measurements, corrections, reference frame), and a double calibration campaign in Corsica (figure 1) and in Grasse with the ultra-mobile laser station and the fixed one of the Calern Plateau.
Corsica calibration sites
In Macinaggio, site located in the northern part of Corsica (figure 1):
One tide gauge submerged in the harbor, installed by OCA, LEGOS and IGN, in 2003 mainly devoted to study of ocean dynamics in the Corsica-Capraia strait but also for calibration/validation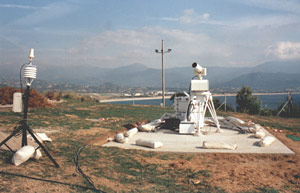 In Aspretto, geodetic site located 2 km from Ajaccio and dedicated for Envisat calibration (also SARAL/AltiKa in a near future):
a GPS permanent site, installed by Cerga & IGN in 1999,
a tide gauge permanent site (continuous ultra-sonic measurement), installed by Cerga & Epshom in 1999,
a Doris station, installed by Cnes-Jason project beginning 2002,
<link internal-link>laser campaigns - FTLRS, with firings on Jason-1, T/P, and for positioning purpose on Lageos, (figure 2)
In Senetosa, main calibration site for T/P and Jason missions located at 40 km from Ajaccio (figure 3)
Four tide gauges submerged on both sides of the Jason-1 - Topex n° 85 ascending track, installed by Cnes-Jason project, IGN, and Cerga

and again ten years after in 2009 where only millimeter differences has been found

(figure 4),
A fundamental GPS reference point near the Senetosa's lighthouse, with GPS survey ties and classical leveling for tide gauges: performed in 1998 by Cerga, Cnes and IGN and again ten years after in 2009 where only millimeter difference has been found,
sea level measurements performed with GPS-buoys in the Senetosa bay including survey ties of sea level with tide gauges performed by Cerga, Cnes and a JPL team, in 1998

and 1999, and continuously since 2010 (at every overflight when sea conditions are not too harsh)

.
Besides the sites described above, several experiences realized these last years (2004 for Capraia and 2005 for Ajaccio) enable to do in Corsica a multi-satellite calibration (Topex/Poseidon, Jason-1 & 2, ERS-2, Envisat and GFO) over different dedicated sites (figure 1).
All the campaigns realized since Jason-1 launch thus enable to extend Corsica site calibration capabilities. In parallel, software and standards (based on IERS 2003 conventions) were updated in order to respond to the Topex/Poseidon, Jason-1 and Jason-2 missions datasets.