17.05.2018 07:56 Age: 4 yrs

[Sentinel-3B] Already starting Calval activities on all instruments
Category: News of the other missions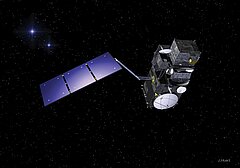 The second Copernicus Sentinel-3 satellite, Sentinel-3B, lifted off on a Rockot from the Plesetsk Cosmodrome in northern Russia at 17:57 GMT (19:57 CEST) on 25 April 2018. It will join its twin Sentinel-3A, in orbit since 2016, for a tandem phase of four months which will start at the beginning of June. Both Sentinels will fly just 223 km apart, which means that Sentinel-3B will be a mere 30 seconds behind Sentinel-3A. After this, Sentinel-3B will be moved apart on the same orbit to a wider separation (140°).
Both ESA-developed Copernicus satellites carry four Earth-observing instruments to measure oceans, land, ice and atmosphere:

Ocean and Land Colour Instrument (OLCI),
Sea and Land Surface Temperature Radiometer (SLSTR),
SAR Radar Altimeter (SRAL),
MicroWave Radiometer (MWR),
and instruments fo Precise Orbit Determination (POD) including:
DORIS receiver (Doppler Orbitography and Radiopositioning Integrated by Satellite)
GNSS receiver (Global Navigation Satellite System)
LRR (Laser Retro Reflector)
All instruments have been progressively switched on, in particular :
DORIS on May 1st at 10:30:00 UTC
MWR (radiometer) on May 7th at 09:48:00 UTC
SRAL (altimeter) on May 8th at 06:02:05 UTC
CalVal activites are already ongoing with a strong implication of CNES, CLS and Noveltis team.
---