08.07.2019 12:13 Age: 4 yrs

SWOT Science Team call (TOSCA)
Category: News of the Swot mission
CNES, in agreement with NASA, is launching a call for SWOT scientific proposals for the period April 2020 through March 2024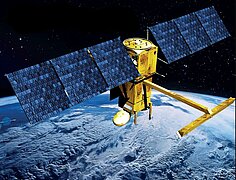 Surface Water and Ocean Topography (SWOT) is a satellite mission being jointly developed by NASA and CNES (Centre National d'Etudes Spatiales), the French space agency, with contributions from the Canadian Space Agency (CSA) and the United Kingdom Space Agency (UKSA) and is currently scheduled for launch in September 2021.
The development of the SWOT program will take a very important step in the coming months with the selection of the future scientific team (ST: Science Team) that will accompany the project until after the launch.
CNES, in agreement with NASA, is launching a call for SWOT scientific proposals. The CNES call is open to French and international laboratories. US scientists will reply to this call through the NASA ROSES program. French teams that are selected will be funded through the French national TOSCA program. International collaborators selected onto the SWOT Science Team will have to ensure that their activities are financed by their national bodies.
The objective of this solicitation will be to select a Science Team (ST) to assist with prelaunch and post-launch scientific development for the SWOT mission. The selection will be conducted in coordination with NASA, CSA and UKSA. The ST will function for the period April 2020 through March 2024, covering key pre-launch preparations, post-launch calibration and validation, and initial scientific exploitation. Its role, along with relevant scientific research, will be to provide expert guidance to the SWOT project in the areas of measurement requirements, product definition, geophysical error sources, algorithm development, calibration, validation, and liaison with the broader science and applications communities.
Information on the SWOT mission and its capability to fulfill the objectives laid out for it can be found at the SWOT web sites (<link internal-link>www.aviso.altimetry.fr/swot/ and <link http: swot.jpl.nasa.gov _blank external-link-new-window>swot.jpl.nasa.gov). Dedicated pages to support this call, gathering the most important information, will be added to both web servers in the coming weeks. Information will be sent out when this is completed by CNES and NASA teams.
The list of priorities that have been defined in <link file:24911 download>hydrology, <link file:24912 download>oceanography, and for the <link file:24914 download>synergetic sciences.
French, European and international proposals are invited to submit your proposals by Friday 30 October 2019 at the latest through the CNES Research proposals website : <link https: sciences-techniques.cnes.fr fr appel-propositions-de-recherche _blank external-link-new-window>sciences-techniques.cnes.fr/fr/appel-propositions-de-recherche.
The SWOT proposal response forms must be validated by the proponent's laboratory director. Proposals will be sent to the usual contacts for oceanography and continental surfaces (information on the TOSCA CNES Research proposals website).
Proposals will be selected for a period of 4 years (April 2020/March 2024) with an annual assessment of the underway progress of the work. As for previous calls, French teams are encouraged to pursue active coordination and collaboration with US and other international Teams where possible and deemed useful. Note that for any French projects with other participating countries, the funding on the CNES side will be reserved for the French teams.
A TOSCA project Selection Committee will meet in November to evaluate the proposals. The next ST will officially begin its work in April 2020.
We trust there will be a strong mobilization of the national and international community around this very structuring program. Please feel free to circulate the list to other researchers around you who may be interested by this call.
If you have any questions, the CNES Points of Contact are the following :
Rosemary Morrow, Oceanography PI: <link mail>rosemary.morrow@legos.obs-mip.fr<link mail>

Jean François Crétaux, Hydrology PI: <link mail>jean-francois.cretaux@legos.obs-mip.fr<link mail>

Philippe Maisongrande, Hydrology Program manager: <link mail>Philippe.Maisongrande@cnes.fr
Anne Lifermann, Coastal Program manager: <link>Anne.Lifermann@cnes.fr
Annick Sylvestre-Baron Ocean Program manager: <link mail>Annick.Sylvestre-Baron@cnes.fr
See also the <link file:24913 download>submission guidelines
Note that for US participants, the new SWOT Science Team call will be issued as an amendment to ROSES 2019 this Summer : circa July-August 2019.
---