30.04.2020 09:30 Age: 2 yrs

Release of CFOSAT SWIM L2P SWH 1Hz Nadir product
Category: News of the CFOsat mission, Website updates
A new Wave product from SWIM/CFOSAT instrument, along-track and of level 2 plus (L2P) is available on AVISO+.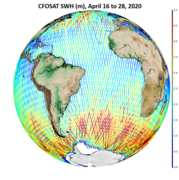 The generation of this product is part of the FRench Oceanographic Ground Segment (FROGS) of the CFOSAT Mission.
Level 2 Plus (L2P) is a simplified product containing the SWIM 1Hz SWH (Significant Wave Height) Nadir variable cross-calibrated with Jason-3 and buoys giving metrics comparable to other missions. They are provided to allow easy use in many different applications.
The L2P products are processed in Near Real Time conditions, based on a best effort and made available daily, up to 15 orbits per day and within 4 hours on MY AVISO+ (under the product named "Wave / wind CFOSAT product"). The time series begins on 29 July 2019. All information can be found in the dedicated handbook.
These data are sent directly to the Copernicus Marine Service (CMEMS) in order to be processed with data coming from other missions for the generation of the CFOSAT L3 Wave product (dissemination made in the product WAVE_GLO_WAV_L3_SWH_NRT_OBSERVATIONS_014_001).
In order to summarize the information, an overview of the list of products and their dissemination is available for the along-track and gridded Wave (section 8) and Wind (section 9) products.
FUTURE VERSIONS
It is planned to improve the quality of the SWIM product with a 5.0 version in mid-June (the current one is 4.3.2). For SCAT products, a new version 3.0 is planned for mid-May. More information concerning these new versions will be given at the opening.
FUTURE EVENTS
Note that two events in 2020 should be of interest for users of CFOSAT products:
A special issue on CFOSAT in an International Journal is planned. Abstracts should be prepared for May 15th and sent to either daniele.hauser(at)latmos.ipsl.fr copy to xuying(at)mail.nsoas.org.cn, with full papers due for September 2020.
The second International CFOSAT Science Team meeting is planned in France 17-19 November 2020 in Saint-Malo, France.
ACCES TO DATA
If you are already registered to CFOSAT products, the new L2P product is available on ftp in the folder 'swim_l2p'
If you are already registered to AVISO+ but not to CFOSAT products, please select the product "Wave / wind CFOSAT product" in MY AVISO+ in the section "Other products you may want to access"
For non registered AVISO+ users, please select the product "Wave / wind CFOSAT product" in the registration form
---