23.10.2020 14:10 Age: 3 yrs

Aviso+ Users Newsletter #17
Category: Website updates
Release of the 17th Aviso+ Users Newsletter, dedicated to meeting the needs of data users, and highlighting CNES altimetry-mission activities.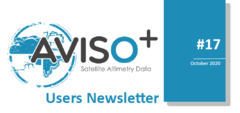 We are pleased to announce you the publication of the Aviso+ Users Newsletter #17.
Summary:
Project News : status of the currents and ongoing missions by CNES project managers
New version of the El Niño Southern Oscillation index
AVISO+ : a wide range of altimetry products
CFOSAT SWIM processing evolution
SARAL/AltiKa level-2 cryosphere products
SLA Arctic
Inland water observation by satellites and the general public
Innovative processing of Sentinel-3 lake data
New upgrades to OLTC tables onboard nadir altimeters used in hydrology in 2020
AVISO+ website, operational after a cyberattack
Coastal altimetry in Toulouse - Long-term observations of the sea level in increasing proximity to coastal areas
Events
Find all the past newsletters here.
---