22.11.2021 11:41 Age: 264 days

Sentinel-6 Michael Freilich: first year in orbit
Category: News of the other missions
One year ago, the successful launch of Sentinel-6 Michael Freilich marked a new stage in altimetry history, as well as a continuity.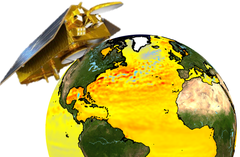 Continuity, of the Topex/Poseidon - Jason-1 - Jason-2 - Jason-3 reference mission series (which is why this mission is also sometimes called 'Jason - Continuity of Service'). This is of foremost importance for the Mean Sea Level estimates. And this is why Sentinel-6 Michael Freilich is currently under calibration, so that all the instruments, including the two redundant altimeters are intercalibrated upon the preceding mission (Jason-3).
New stage, since this reference mission is now fully part of the Copernicus operational constellation of satellites, a "Sentinel", with a clone already nearly ready, built and tested. It will be launched to take over Sentinel-6 Michael Freilich, after the same intercalibration with its predecessor. Moreover, the use of the "SAR mode" for all the oceans opens new capabilities. Some are already being developped (such as fully-focused SAR), some might still arise.
---