12.04.2022 14:52 Age: 2 yrs

Mesoscale Eddy Trajectory Atlas META3.2DT
Category: Website updates
The New Mesoscale Eddy Trajectory Atlas META3.2DT is now available on Aviso+.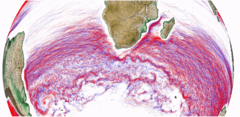 The Aviso+ team is pleased to inform you of the release of the Mescoscale Eddy Trajectory Atlas META3.2 DT (Delayed Time) allsat (DOI : 10.24400/527896/a01-2022.005.210802) and twosat (DOI : 10.24400/527896/a01-2022.006.210802).
The differences with the META3.1exp DT version are:
use of the DUACS DT2021 reprocessed ADT maps (instead of DT2018)
storage of contours and speed profile on 20 points (50 points previously)
temporal coverage from January 1993 to August 2021 (from January 1993 to March 2020 previously)
Please note that the 3.2 DT version is now operational and will be maintained in the future.

More information is given in the product page. The details about the processing are described in the product handbook.

DISSEMINATION:

The product is available on the FTP service and on the Thredds Data Service.

AVISO+ ACCESS:
Don't hesitate to contact us for any question/remark/feedback (aviso(at)altimetry.fr)
---