17.04.2023 12:55 Age: 46 days

Aviso+ Users Newsletter #21
Category: Website updates
Release of the 21th Aviso+ Users Newsletter: highlights of ongoing satellite altimetry mission activities.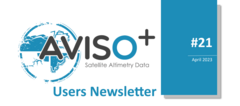 We are pleased to announce you the publication of the Aviso+ Users Newsletter #21.

Summary

- Project news

- Towards the routine use of coastal altimetry from a Round Robin exercise to a new global product for sea surface heights

- New Mean Sea Surface

- SWOT on the AVISO+ and CNES websites

- Events

Hope you will enjoy this new issue!

Find all the past newsletters
---