12.10.2021 07:41 Age: 2 yrs

AVISO+ releases updated Mean Sea Level (MSL) Ocean Indicator products
Category: Website updates
These climate key indicators are now based on the 2021 reprocessed L2P along-track AVISO+ products V03_00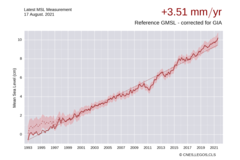 These climate key indicators are now based on the 2021 reprocessed L2P along-track AVISO+ products V03_00. The new products include global MSL timeseries as well as regional MSL maps covering the period 1993-to present days, for the reference missions TopEx-Poseidon, Jason-1, Jason-2, Jason-3 as well as for the auxiliary missions Saral/Altika, ERS-1 , ERS -2, Envisat and GFO-sat.
Updates of the products
Data access
References
All informations about the products can be found here.
---