Doris, the space surveyor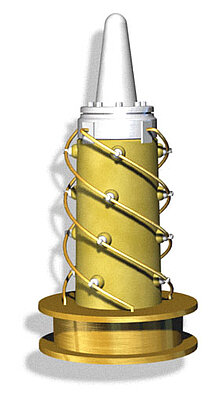 The Doris system is a French civil precise orbit determination and positioning system. It is based on the principle of the Doppler effect with a transmitting terrestrial beacons network and onboard instruments on the satellite's payload (antenna, radio receiver and oscillateur ultra-stable).
Doris is one of three systems used for precise determination of the Jason-1 satellite's orbit. Several of these techniques are sometimes merged on the same satellite : Jason-1 satellite includes three tracking systems, Doris, location by GPS and laser telemetry. The Doris system perfectly corresponds to the specifications required for the ocean's topography observations and the amplitude of the observed phenomena: it is now enables to measure the satellite position on its orbit close to 1 cm. It is interesting to compare this precision with the precision obtained at the beginning of the space age, where the the satellite position was estimated close to 20 km then close to 20 meters in the 80's. Since 1998, the Diode navigator has added real-time measurement processing capability for satellite navigation.
The Doris system was designed by Cnes, the French space agency, in partnership with France's mapping and survey agency IGN and the space geodesy research institute GRGS. Since 2003, IDS is an international service which provides a support, through Doris data and products. The successive missions since Spot 2 and Topex/Poseidon have truly demonstrated its performance.
The newsletter is published in color with live links on the IDS web site.